Making a donation is easy. If you have items you wish to donate to More Than a Thrift Store just pack them in a box or bag and bring them to the checkout counter right in the store. We will take a quick peruse and let you know if there is anything we think we cannot sell. You can bring one item or many boxes. If you have many boxes you can park near the back door, which is much closer to the check-out counter than the front door, and bring your donations right in! We also accept furniture. Just bring your furniture donation to the store and we will help you bring it into the building.
We accept donations during our hours of operation, Wednesday through Saturday.
Wednesday/Thursday 10-4
Friday 10-6
Saturday 9-5
Some items we do not accept are:
Mattresses/box springs
TVs
Phones
Cassette/VHS tapes
Humidifiers/vacuum cleaners/air conditions
Cribs/car seats
Upholstered furniture w/rips, stains or wear
Large appliances
Computers/printers/monitors
When you donate to More Than a Thrift Store you may be able to receive a tax break.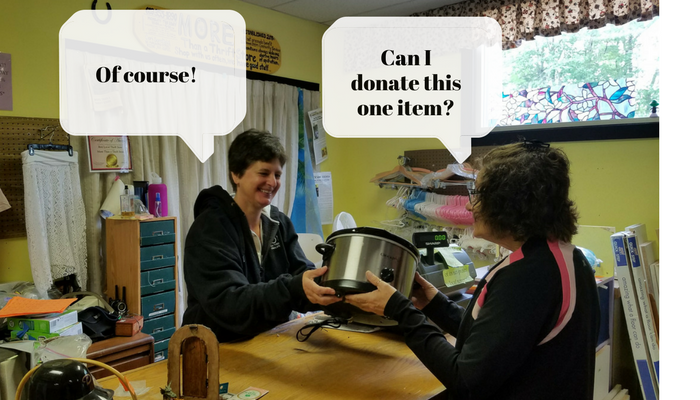 ---
Congratulations to the Organizations Receiving Money

from
More Than A Thrift Store in 2021
Ruck Up–$10,000
Feeding Tiny Tummies – $10,000
Monadnock Area Foster Parent Association – $5,000
Keene Senior Center – $5,000
MCVP – $4,500
Rise – $3,000
Gathering Waters Charter Public School – $2,000
The Edge Ensemble Theatre Co.- $2,000
ST. Vincent DePaul Food Pantry – $2,000
Partners In Heaalth – $2,000
House of Hope – $1,000
Monadnock RSVP Volunteer Center – $1,000
Keene Swamp Bats – $1,000
Monadnock Kitty Rescue and Adoption – $500
Chesterfield Historical Society – $500
Monadnock International Film Festival – $500
This comes to a total of $50,000
given to local organizations!
---